Hello!
So last week I had to miss out the Wednesday Want List because I was having major internet issues and ended up getting so frustrated that I basically just shut my computer down and read a book instead! Made me much calmer after that ordeal! Haha!
Here's this weeks want list...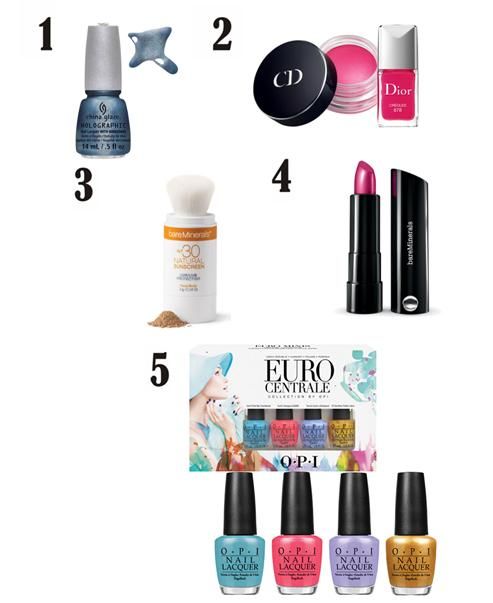 China Glaze Take a Trek Nail Polish - £6.95 Beautybay.com - I actually brought my very first China Glaze polish today and have fallen in love with it so when I was having an internet wonder and came across this lovely colour I immediately popped it onto my want list! It's a pretty holographic blue colour and I just love the look of it!
Dior Summer Mix Cream Blush and Nail Polish - I'm not sure how expensive these will be yet....the Nail Polish is £18 and to be honest, I'm not a Dior polish fan (they chip WAY too easily on my nails) so if I can buy the blush separately then I'll go with that option. I love cream blushers and really love the look of this bright pink one...although judgement will be reserved until the Dior counter next to mine gets them in and I can play with them!
bareMinerals SPF 30 Natural Sunscreen - £25.00 bareminerals.com or on (most) counters - Mine ran out a while back and I just really want to get a new one. Not sure I can justify it with my funds at the moment....but it is really sunny and I need it, so there's my excuse for buying and I'm sticking to it! I know £25 for sunscreen seems like a lot but I'm allergic to a lot of suncreams and come out in rashes with them, which is hideous and itchy! This is a powder alternative and I like it a lot so I may as well stick to something I know and trust (also I get discount on this which helps I think!)
bareMinerals Moxie Lipstick in Never Say Never - £16.00 bareminerals.co.uk or on (most) counters - I'm really loving the new BM lip collection (I never thought I'd love lipliners so much!) and naturally this bright pink was the one I fell in love with on training. However, being a mini counter I only get a small selection of colours....and guess which one I don't get on my counter?? Nooooo! I was gutted when I found out that I wasn't getting this one! Now I'll have to travel to get it but then never be able to wear it on counter for fear of someone liking it and not being able to show them it. Working on a makeup counter is hard sometimes! Haha! (Also, I love love love the new swish packaging on these lipsticks!)
OPI Euro Centrale Mini Collection - £12.95 Beautybay.com - I saw this today when I popped into Sally's for some hair dye and just fell in love with this mini collection. It's got a really lovely mix of Summer colours and really appeals to me as a set as I like all of these colours - usually I find there is always one that I don't like in a set. I decided not to buy it because I can't justify £12.95 on some nail polish this month (trying to stay debt free!) but I've been thinking about it all day now!
So there are my wants for this week. Are there any bits you guys are really wanting this week? Quick side note - I'm also really wanting Man Of Steel tickets for the 14th as I obviously will have to see the new Superman movie on the opening day but I won't be able to book tickets until I can sort out my shift at work on Friday....fingers crossed that I can!!
Until next time,
xoxo